Yo ppl of Taichi P ! Tonite my CD will be over & I'll put an apply to SS guild.

Hope the adventure will be huge

I'll put some screens about my main & rerolls, my stuffs, pets,... I'll take all advices to be better !

And for the rename, have I to do this immediately or I can wait one or two days?
What do you think about those renames:
SS
GREENTHUMB
SS
GRΞΞNTHUMB
SS
GRΣΣNTHUMB
SS
GR∃∃NTHUMB
(I think I can't write SS
DR.GREENTHUMB
cuz there are to many characters...)
So I hope to see you IG

Hey :-) Great news that u decide to join our Guild Hope we get a Great Time with you ;-)

Iam a Fan of no big bling bling so i Would Chose the First Name ;-)

Member





Messaggi

: 11



First name style was chosen Boss

But GREENTHUMB was too long for the game ! (Can he score my name?

)
And thanks for welcoming me

Last edited by Greenthumb on Mon 30 Nov - 16:45; edited 1 time in total
Like I said, here is the screen !
Profile taken on 15-11-30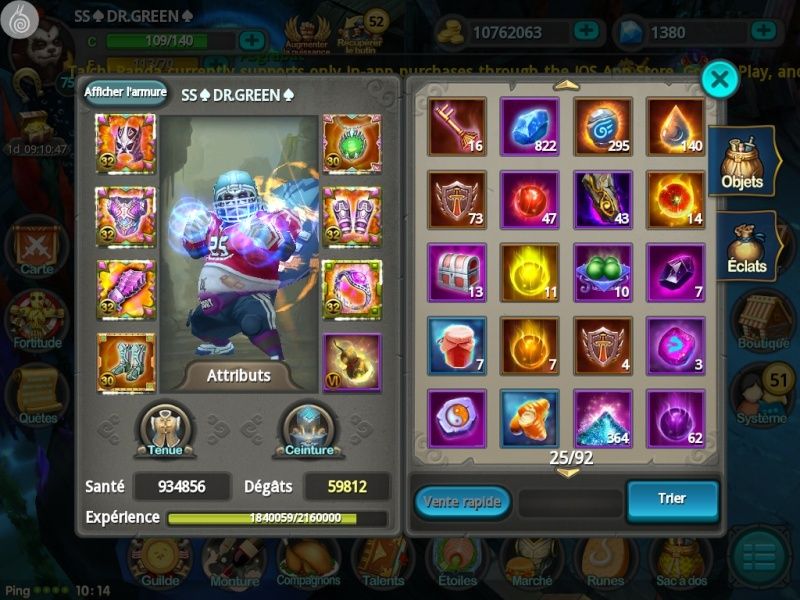 My pets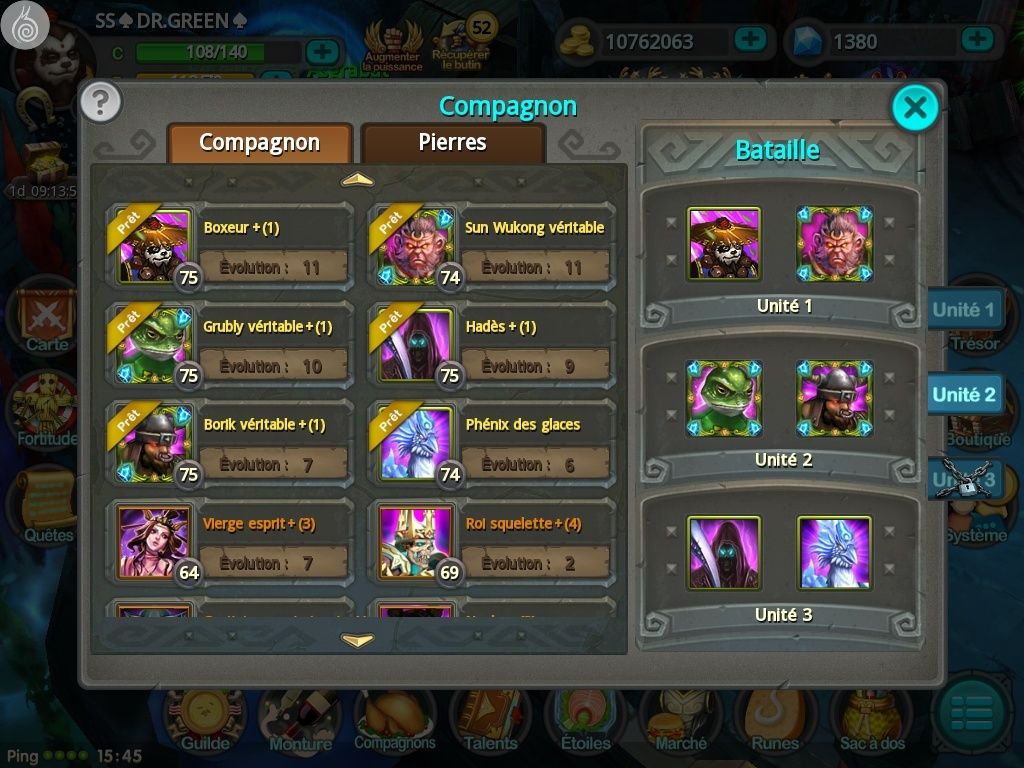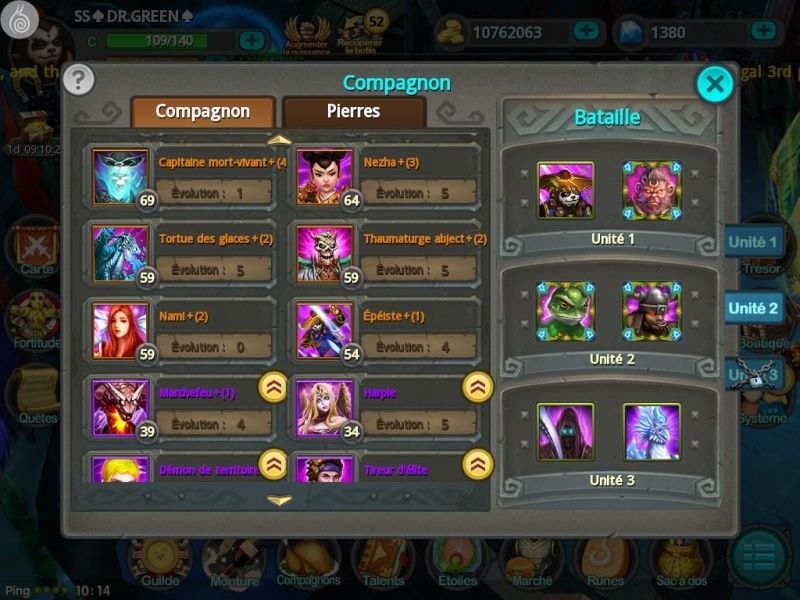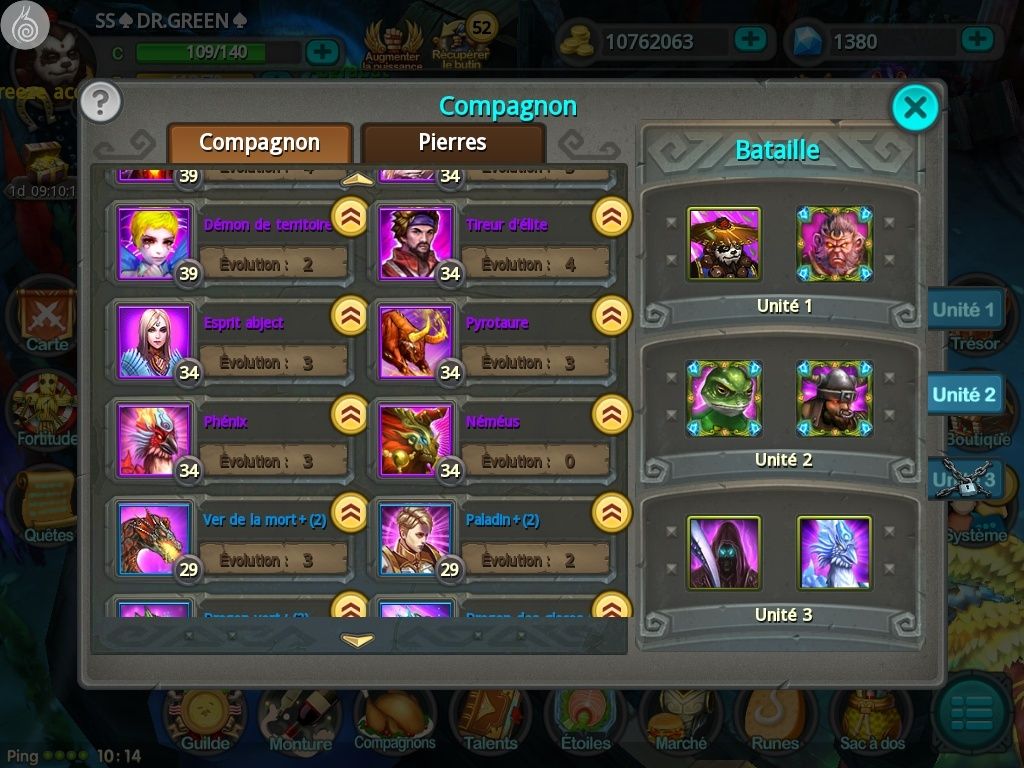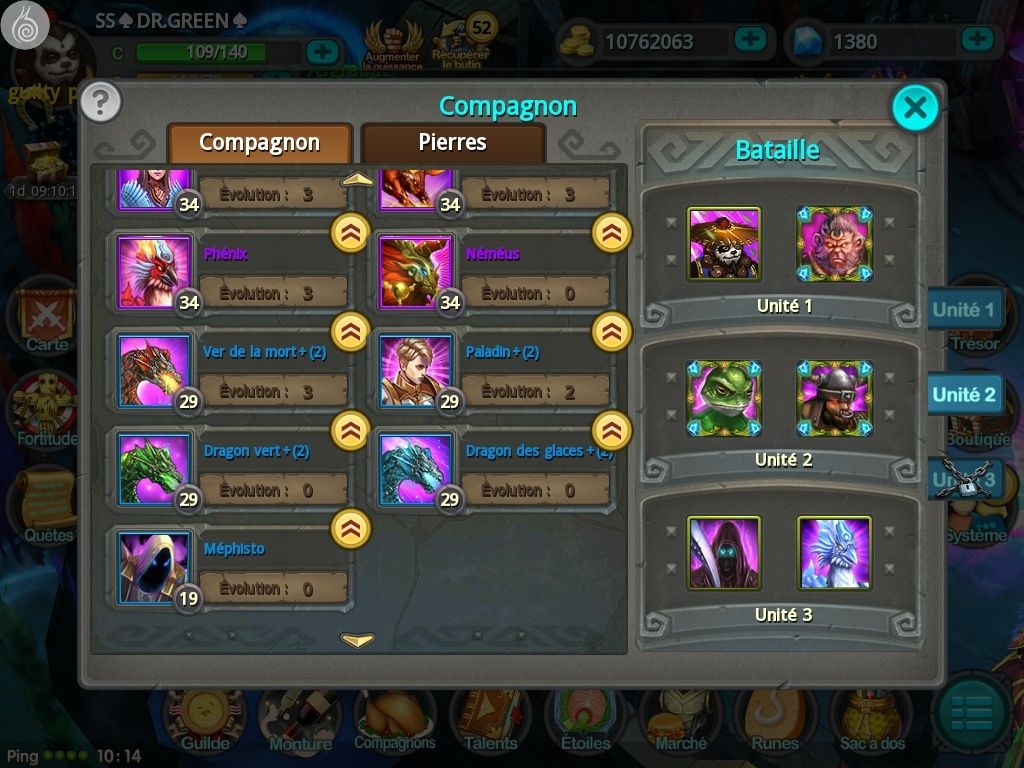 And I have just a few questions...
I use those pets in PVE : Team1 = Grubly+Captain Sam, Team 2 = Boxer+Borik, Team3= Hades+Sun Wukong !
In PVP (PVP and Battlefield) I use Team1 = Grubly+Captain, Team2 = Boxer Borik, Team3 = Hades+Ice Phoenix
In 3v3 I use Team1 = Skel King+Borik, Team2 = Boxer+Capt Sam, Team3 = Hades+Ice Phoe or Nezha
In BR I use Team1 = Ice Turtle+Skel King or Boxer, Team 2 = Borik+Capt Sam, Team 3 = Grubly (or Nezha)+Hades.
What are your best combos for PVP? I have so many pets but I have to pass 70+ Spirit Maiden, Captain Sam, Mephisto, Nezha, Skel King,...
My priors now are Ice Phoenix LVL74 Evo6 (2 days to lvl75+) > Skel King LVL69 Evo2 (earning for Evo2 to Evo6) > Nezha LVL64 Evo5 > Spirit Maiden LVL64 Evo7 > Maybe upgrading Nami one day too !
What are you thinking about the last pet they released? This little fairy is full of life ! I was maybe thinking to up her ! Maybe she's better than Pyrotaur or Firewalker

And sorry for Taichi Panda's app in french !


Similar topics
---
Permissions in this forum:
You
cannot
reply to topics in this forum